Customer Testimonials
What our customers are saying...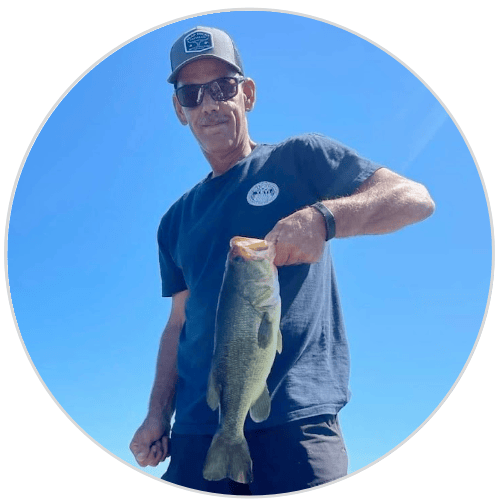 "Hey Mr.! Thank you for making an awesome goby. I pounded the bass on the bay today in the FQFS Tourney, all caught on the GOLIATH Goby (Lake Simcoe Goby color). Hands down the best I have ever used!
Joe Buchanan, Tournament Angler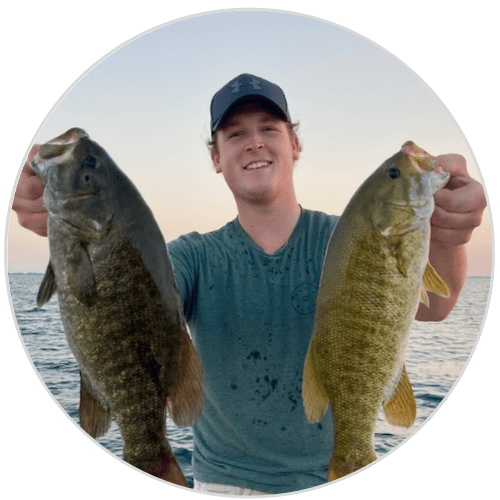 "I had the pleasure of trying out GRUMPY Baits a couple summers ago and I must say it has completely changed the game for me. Everyone knows tube jigs and dropshotting are killer for smallmouth but for me, the Goliath Goby on a 1/4oz Ned head has caught me bigger fish and more fish. Not only are they good for experienced fisherman but they're also a great bait to give to someone who's just starting out as they're fail proof. My family members just drag them behind the boat and still manage to catch lots of fish with little to no action. I think that speaks for the quality and accuracy as to how these baits were produced."

Cam Wheeler, Avid Angler, Cabin Creek Rep, Lake St. Clair Specialist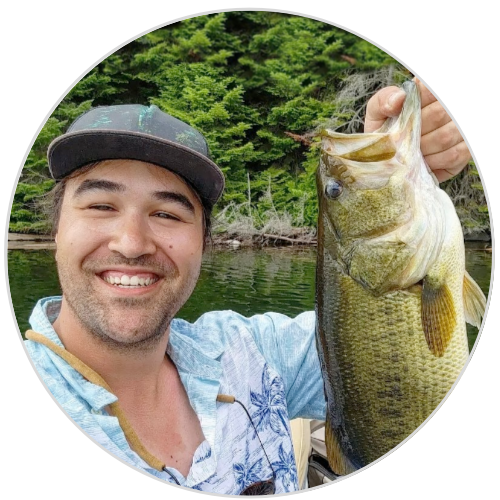 "Up-north, the big bass love the @grumpybaits 3.3" Goliath Goby. This 5.13lb, 20.5" behemoth of a largemouth bass took one look and the rest is history"

Kevin Dean-Grove, Avid Angler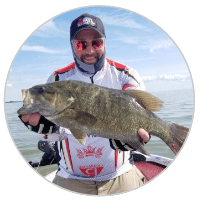 "I've been doing work with the Goliath Goby on a dropshot rig. Perfect color combination, tough but soft. They are absolutely unreal!"

Tom Smith, Tournament Angler
What our customers are saying...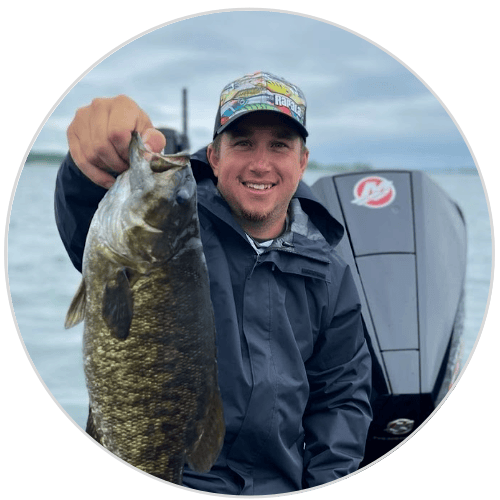 Love your plastics the smallies are crushing them!!!
Thanks for making a bait that works. Twenty (20) smallies, 4-pound average before the bait was done.

Cory Holt, Avid Angler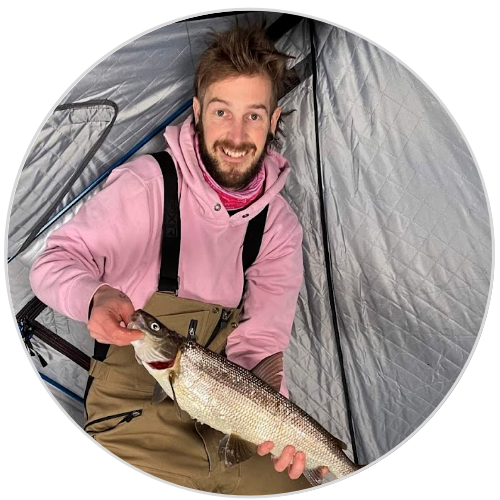 Your 2.6" Round Goby made success for me today! First whitefish in years except when I was with a guide. I put the goby down my hole and bamb! Got it all by myself.

Michael Glandfield, Avid Lake Simcoe Angler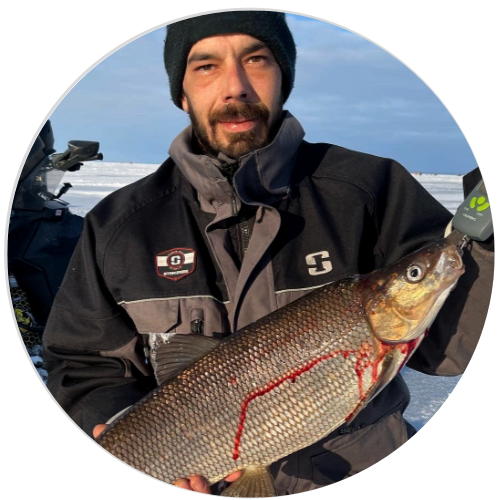 It's been 3 years I've been ice fishing Lake Simcoe for whitefish trying every bait that was recommended to me with little to no success. This year I thought I'd try out the GRUMPY Bait gobies and what a game changer my season has been. Using the 2.6" ROUND Goby with a 1/8th oz jig head has been working really well for me getting my limits. I'm excited for the upcoming open water season because not only are these baits good for ice fishing, they're an all season bait for every species you wanna target. I highly recommend GRUMPY Bait Company baits they're now my go-to-baits on the hardwater!

Chris Dumais, Avid Lake Simcoe Angler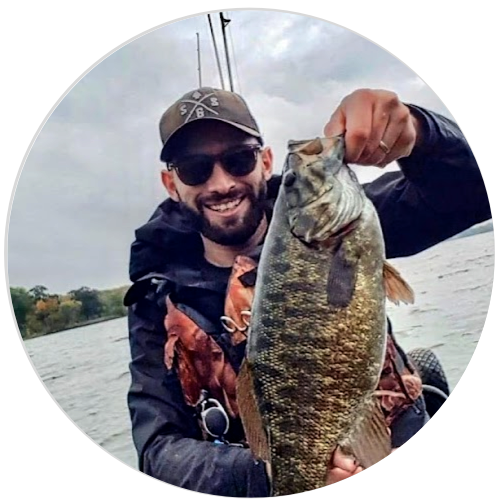 PB Smallie, 17.5 inches but spilling over the bumpy board and definitely 5+ lbs.

Fall fishing from the kayak has been good for me. And it feels like a broken record but caught this striped toad last weekend dropshotting a [GRUMPY Bait Company] 2.6" Round Goby again!

Steven de Boyrie, Avid Angler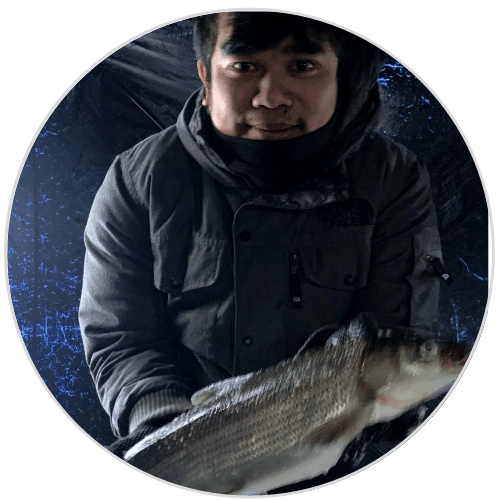 GRUMPY Bait is my first choice bait when it comes to fishing for whitefish.100% recommended!

Michael George Butac, Avid Angler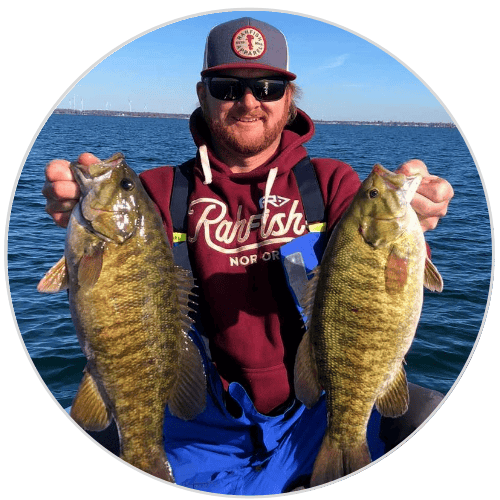 I finally got out on Erie today and put the Round Goby to the test and it did not disappoint. 40 fish day and 37 came on the 2.6" ROUND Goby in Natural Goby/Chartreuse on a 3/8 football head. We out fished all the boats around us. It was a great day.

Mike Small, Avid Angler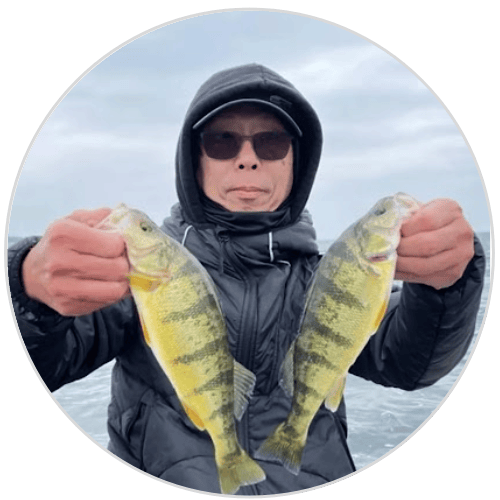 The 2.6" Round Goby and 2.25" Mini Goby (Lake Simcoe color) did very well for me yesterday on Lake Simcoe. Got some 12-13" Yellow Perch slabs! I would highly recommend these bait when fishing for Yellow Perch anytime!

William Huang, Avid Angler
What our customers are saying...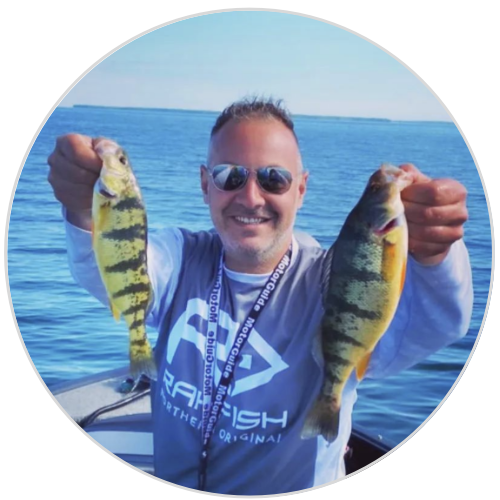 Love using the 2.25" Mini Goby in Natural Goby/Gold color. Lake Simcoe perch love them! I've tried many different baits for targeting jumbos and I have finally found a true winner with GRUMPY Baits. They are the most realistic looking baits ever. They swim exactly like the real goby. I'm always confident that if I miss the first hit, they will circle around for another strike! Can't wait to try these in a few weeks further north for walleye in some back lakes, as I have had tremendous success with them also for targeting walleye on Lake Nippissing. Thank you GRUMPY Baits for creating a true winner!

Sal C., Avid Angler, Lake Simcoe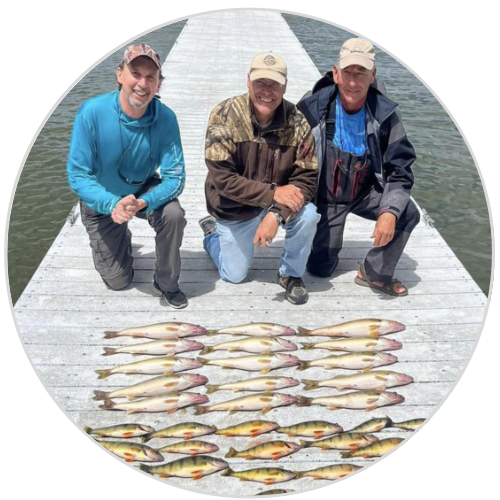 Another GR8 day of walleye and perch jerking today with Doc and his crew. Thanks to Robert Hank for cleaning them. Perch were liking the GRUMPY Baits, Mini Goby and of course the good old crawler.

Bret Alexander, Alexander Sport Fishing, Green Bay, WI, USA.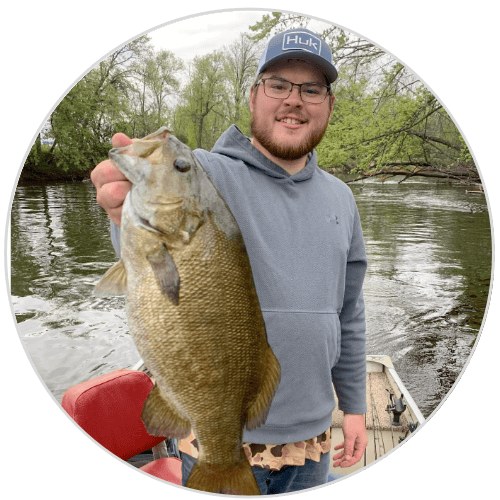 Hey Martin. Saw you're the founder of GRUMPY Baits. Love the baits! They work phenomenally on smallies here in Wisconsin.

Connor Ebben, Advid Angler, Wisconsin, USA.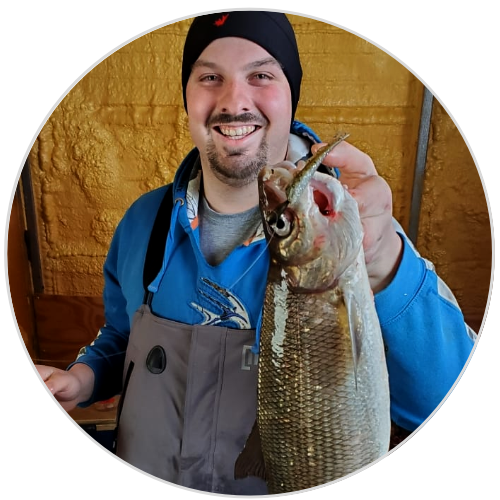 Big Country crushing the whitefish again. We've been seeing lots of limits and big fish lately ?for some more great action over the next 2 weeks. Get down here Marty they're biting steady (on the 2.25" Mini Goby), Grumpy Bait Company

Scott Osborne, Big Brutes, Ice Fishing Guides, Green Bay Wisconsin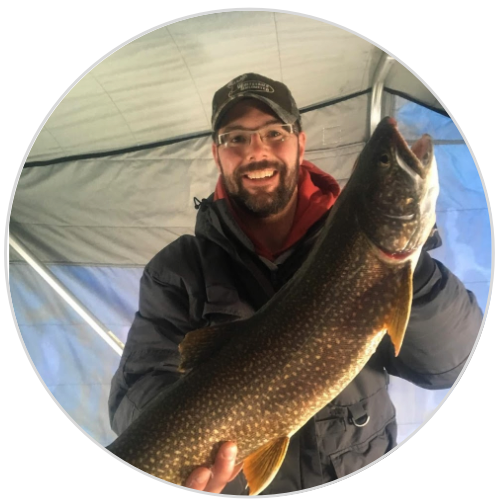 We fish for Whitefish, Lake Trout, Burbot and Perch on the north end of Lake Huron. This year we decided to try GRUMPY Bait Company goby baits. Well, not only did they do everything in their power to get the baits shipped the same day, the 2.25" Mini Goby helped us land a ton of Whitefish, Burbot and Perch! It's great to use such an original and unique bait made right here in Ontario! I would highly recommend you try their baits. "

Jason Doyon, Avid Angler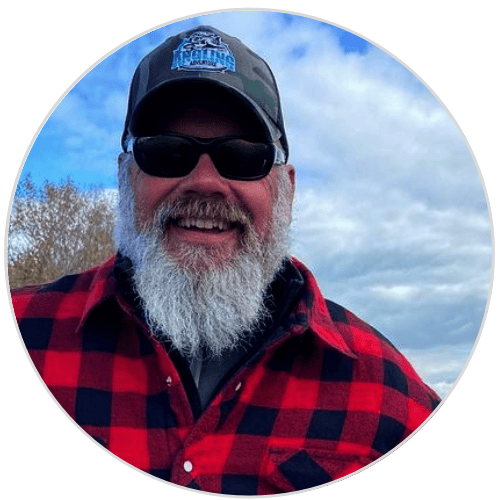 The bite has been SO SLOW lately and I rigged up a drop shot with the 2 1/4" Mini Goby and this guy (walleye through the ice) came in and smoked it! I seriously can't get over how good these baits are!

@adam_227, Adam Solecki, Avid Angler
What our customers are saying...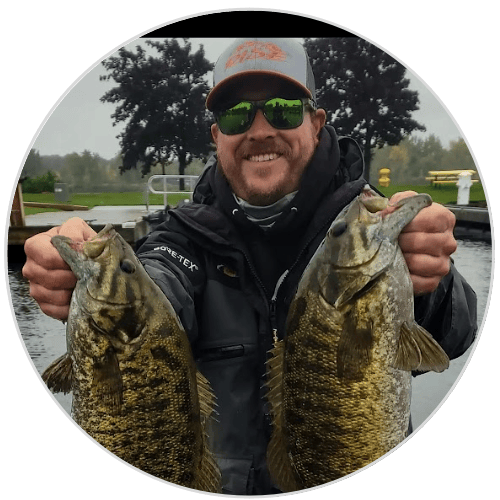 This bait [2.6" Mini Minn-FIN] slays! St. Lawrence river smallies were all over it at the Franny Cup! I fully expect my competitors to have these in their tackle box for next season. The smallies on Lake Huron were chewing them today!


Chris Zepf, Tournament Angler
What our customers are saying...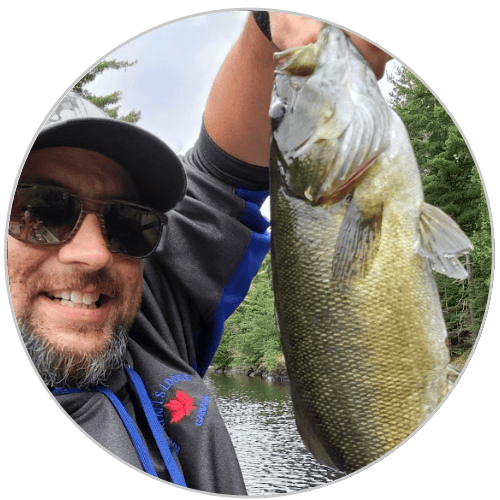 "We were drop shotting for bass around some islands. I was using a ZMan Trick Shot. I kept catching small bass. I turned to my buddy and said, "I need to upsize my bait.". Thankfully I brought the pack of Minn-FIN's (Baby Bass color) I won from the Paddle Get Together last month and threw on a Minn-FIN.

The first drop and hooked up with a mammoth of a smallie. I don't like to exaggerate but it was easily 4lbs. After that, I kept putting on the remaining Minn-FIN from the package and they caught me numerous bass in a short time!"

Santino Di Pietrantonio, Avid Angler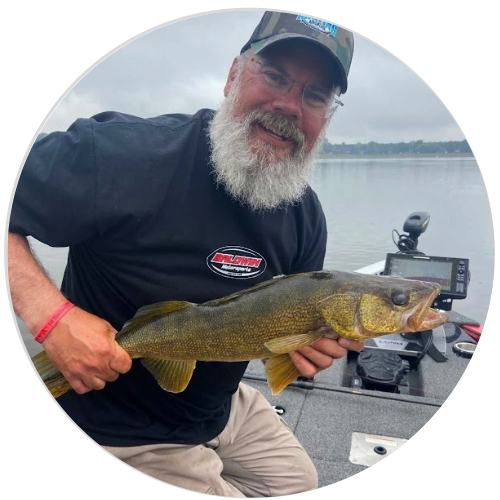 Awesome baits guys!! Unbelievable how tough yet soft your baits are!! I'm really glad I found your baits! I've been using the fluke jr's for a while now and saw that yours were more supple and when I tried them out my hookup ratio has been excellent. Keep up the good work!!

Adam Solecki, Avid Angler