PRO STAFF
Our PRO Staff consists of anglers who regularly participate in tournaments and professional events throughout the year. They put our baits to the test and provide valuable feedback so we can improve our baits.
---
Bret Alexander
Alexander's Sport Fishing Guide Service
Captain Bret Alexander has 40 years of fishing experience on Green Bay and 15 years of guiding experience. Bret is one of the most well known fishing guides in the Green Bay area and is regularly featured on almost every fishing TV show that visits the area including: In Fisherman, Trophy Fish Hunter, John Gillespie's Waters & Woods, Legends of Rod & Reel, Midwest Outdoors, Ford Outfitters TV, Keyes Outdoors, Babe Winkelman TV, Big Fish 365, North American Fisherman, Fox Sports News (Green Bay), etc.
Dwayne Sooley
Avid Angler, Belleville, ON
Born and raised in Ontario Canada 🇨🇦, I've been fishing 35+ years, targeting many species of North American game fish. I often fish tournaments and derby events - it's in my competitive nature. GRUMPY Baits soft plastics, are truly unique, offering life-like and durable designs that are now my go-to baits. When goby invaded the Great Lakes, no bait company clued into the opportunity to create goby baits, until GRUMPY Baits started making them and now are leaders in goby baits across North America. Check them out you won't regret using them!
PRO GUIDES
Our PRO Guides are a critical part of our innovations and testing process. As professional captains who take out customers of all experience levels, they provide valuable input on bait design, coloration and useability.
---
Captain P.j Baylis
No Limits Fishing Charters
Specializing in Detroit River Walleye, Lake Erie Walleye & Rainbow Trout, and Lake St. Clair Muskies. Avid tournament angler, fully licensed and commercially insured charter captain. PJ has been fishing the Great Lakes since childhood, and finds passion and excitement in showing others how to fish these world class waters. If you are looking for advice on what GRUMPY Bait's to use on the Detroit River or Lake Erie for walleye or bass, DM PJ's Instagram!
Captain Steve Falcon
Chief Charters
Captain Steve, professional guide and owner of Chief Charters, has always lived the life of a fisherman. "As Great Lakes fish adapt to feeding on Gobies, it only makes sense that fishermen also adapt their baits to match this new forage. I knew I needed a Goby pattern in my arsenal to maximize my catch and Grumpy Bait Company has that covered. Grumpy's Goby series has the perfect Goby profile. With this new addition of Goby to the already proven worm and minnow patterns, there's nothing I can't catch with Grumpy."
BRAND AMBASSADORS
Our BRAND Ambassadors are fun, passionate anglers who love to educated other anglers on the basics. From selecting the right GRUMPY bait to advanced fishing techniques, our BRAND Ambassadors make fishing easy!
---
Ryan Biggs
Avid Angler, Elora Region
Growing up I have always had a passion for fishing, there is something about the pursuit of a fish that is like no other feeling in life. My favorite species to pursue are walleye and smallmouth. I love the sheer power and fight that comes with hooking smallmouth, while on the other hand I love the suttleness and technique that is required to catch walleye. I have the most success catching smallmouth with Grumpy's Crawdaddie and walleye can't seem to resist the finesse TZR-Worm. I aspire to one day accumulate enough skill and knowledge to have the opportunity to fish the bassmaster classic. As an angler it is my goal to inspire future generations to get involved in the outdoors, fishing and conservation. My suggestion to anyone getting into fishing - speak with staff at your local tackle store. They often have the best advice when it comes to anything fishing and will get you properly prepared to succeed. Questions about GRUMPY Bait's, contact me via my Instagram account!
Steven de Boyrie
Avid Angler, South-Central Ontario
Fishing has become both a passion and an obsession for me. I get out at least once a week, all year. For me it is equally about the thrill of reeling in a biggin, and the peacefulness I feel out in the middle of a lake or river. I grew up saltwater fishing in Florida, surf casting and inshore fishing for reds, seatrout, flounder and other species. I would chase the odd bass while summer camping but it wasn't until late 2020 that I really decided to chase this passion. I wanted to learn and experience as much as possible so that's what I did. My advice to a new angler is to just get out there. Put in the work, try new spots and different approaches; the fish will eventually come. And also to just ask questions! Most anglers are more than willing to give you tips or even some baits! As a multi species, year round angler, I'm super proud and grateful to be an ambassador for GRUMPY Bait Company as there is a bait for almost everything. I have been very successful dropshotting the 2.6" Round Goby for summer and fall bass, as well using Micro GRUBBY's, Mini Minn-FINN's and the entire goby lineup for ice fishing. If you have questions, DM me on Instagram!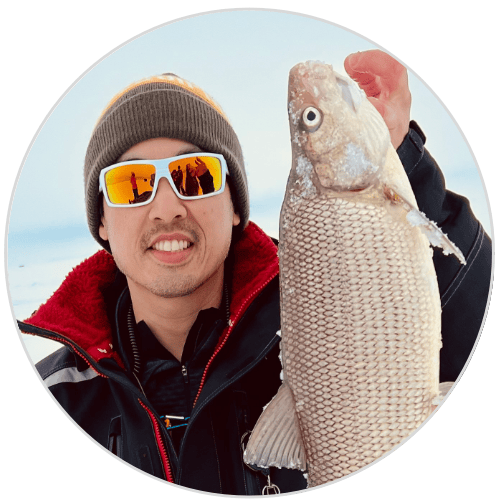 Julian Lising
Avid, Multi-Species Angler
My passion for fishing started at an early age when my dad took me salmon fishing on the credit river. As a kid, hearing the cheers from other anglers as I walked the bank to land my first salmon was the moment I knew I loved fishing. Over the years, we'd take many family trips to different lakes in the Kawarthas mainly chasing bass, walleye, and panfish. Fast forward to late 2021, I bought my first fishing kayak and decided to take my passion to the next level by adding musky, lake trout, whitefish, burbot, salmon, and steelhead to the list. Fishing has been an important outlet for me because it's taught me how to be comfortable with the uncomfortable, and the sense of peace and calmness it brings while out on the water. If you know me, I'm always up to trying out new things. Hearing a lot about gobies as the main food source for many fish in our waters, I decided to try out Grumpy Baits Goliath Goby while on a family trip, and the rest is history. Catching fish after fish, I was a true believer. Dropshot, ned rig, it didn't matter, these baits worked! Joining the Grumpy Baits family was a natural fit since I've already been successful using them both in open water, and ice fishing. I'm truly grateful for the many connections I've made in the fishing community, and excited to be part of an innovative bait company that makes baits I know will catch fish.
Jake Patterson and Ashton Campbell
Avid Anglers, Waterloo Region, ON, Canada
Our interest for fishing began in our younger years as we both watched our father's with their rods on the water. Our Father's enjoyed our love for fishing on the docks and taught us all of the basics we needed at such a young age. Prior to Covid, our rep sports did not allow us to devote the time we had wished for to fish. As Covid became widespread, unfortunately, so did the restrictions it had on life. With a pause on everything, we found ourselves having the time to do something that we loved. Early sunrise became our alarm clocks to pack our gear and plan for the anticipation of bike rides that brought us to the many lakes and rivers. When the opportunity was available, we would prepare our kayaks and paddles for a new environment. The thrill of catching smallmouth on top water, and the achievement with the beauty of the 32 inch Northern Pike in our local river that succumbed to our skill, were only a couple of our most prized moments. The world of fishing has not only been upon the water, but it is a community that we have been blessed to be a part of and grown deeply to greatly appreciate. The connections we have gained locally, those through our social media and others who we have met at Natural Sports have only increased our wealth of knowledge within the fishing realm. Grumpy Baits stands alone in the fishing world and has been a vital part of our fishing success when they graced the shelves at Natural Sports and many other locations. Using the Mini Minn-Fin on a ⅛ oz jig head has only benefited our daily catch on smallmouth and other species. We are always browsing the many options this company has fashioned for us avid anglers! It will only be a dream to continue to grace the calm waters and the peace this sport entails and hopefully one day in the far future, we will be able to teach our own child, as our Father's taught to us.
We look for Pro Staff, Pro Guides and Brand Amabassadors to help get the word out about our baits. Equally as important, we want our Pro's to help other anglers hone their skills in fishing. Holding back the "secret bait" is simply not in our vocabulary.

If you enjoy helping others, have already used our baits and love them, then we would like to hear from you!